When it comes down to it unconditional love is often described as being at the heart of the Christian faith.  The scriptures tell us that "God is love!" In this sense Jesus himself is love incarnate.
As I reflect on this central tenant of my faith on this World Refugee Day I am also confronted by the lyrics of U2 in their song Walk On love is not the easy thing.
Love, unconditional love, is demanding.  It requires something of us.  It involves sacrifice. This reality has been the story of the martyrs through the centuries and as we contemplate the masses of refugees moving around the globe and the response of our own government (and much of the Australian population) the question can easily be asked, "where is the love?"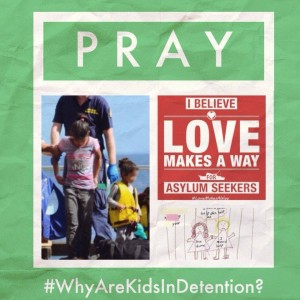 The movement love makes a way has already seen over 30 Christian leaders arrested for their protest and prayers for the children held in offshore processing centres.
Being God's people call us to speak up and out in the name of the love we have experienced and to reach out to those at the margins with that very same generous love.
Can love make a way? Let us pray it is so!